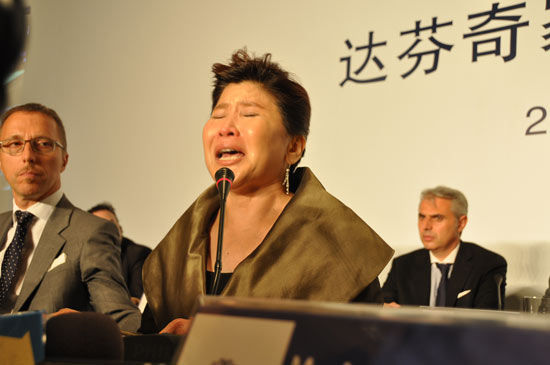 Pan Zhuang Xiuhua, general manager of Da Vinci Home Co., Ltd., burst into tears

Da Vinci, a home furnishing manufacturer, held a briefing in Beijing today on CCTV's exposure to its "fake foreign brand" identity and the unqualified quality of some products. Pan Zhuang Xiuhua, general manager of Da Vinci Home Co., Ltd., admitted to cooperating with domestic furniture factories including Dongguan Changfeng.

Pan Zhuang Xiuhua emphasized Da Vinci's "agent" status at the meeting, indicating that the brands such as Cappelletti, Riva, Hollywood and Jumbo are carefully selected. Pan Zhuang Xiuhua said that all the Italian brands of Da Vinci are produced and imported in Italy. Acting American brands, such as Hollywood, are globally sourced, including China, Vietnam, the Philippines, India, and Indonesia. She said that Da Vinci has always explained this to customers.

Pan Zhuang Xiuhua said that some of the problems that have arisen in the past are due to inadequate and timely supplementation of employee product knowledge. At present, plans have been made to strengthen staff training. According to Antonio Munafo, CEO of DaVinci's agent brand Jumbo, Da Vinci furniture is produced in Europe, and it is not true that exports to Italy will be converted to imports. He said that if the media is willing to go to Italy for a field trip, they are willing to cooperate. Some reporters raised the issue of inspection fees. The other party expressed their willingness to provide 20 free air tickets and accommodation support media to visit Italy.

For sensitive non-solid wood issues, TinoCappelletti, president of Daventi's other agent brand Cappelletti, said that Chinese tradition believes that 100% solid wood is high quality, which is actually a misunderstanding. He said that the essence of Italian home is its design, materials and invention ideas, and said that it will support Pan Zhuang Xiuhua. At the press conference, a consumer was emotional and complained loudly that he purchased furniture worth tens of millions of yuan in Da Vinci. Now Da Vinci and CCTV have different opinions, and Da Vinci needs to make a clear statement to him. The press conference was interrupted for a while, and Pan Zhuang Xiuhua shed tears to tell his own history of entrepreneurship. She admits that she had cooperated with domestic furniture manufacturers including Dongguan Changfeng, but the product series is different. It is a brand created in the Mainland. It has nothing to do with Italian brands and is misunderstood by the media.

No interviews were arranged at the briefing session, and no response was received from the contents of the previous CCTV. After Pan Zhuang Xiuhua's crying was finished, the group immediately hurriedly left.

Da Vinci's fraud follow-up: Chongqing seized 12 pieces of Da Vinci furniture

After Da Vinci furniture was exposed by CCTV, many media began to track. On the afternoon of the 10th, the Morning News reporter visited the Da Vinci Chongqing exhibition hall at Guanyin Bridge in Jiangbei. Yesterday morning, the Jiangyin District Industrial and Commercial Bureau Guanyinqiao Industrial and Commercial Office went to the Da Vinci Furniture Store to conduct further investigations and seized some of the goods.

At present, Da Vinci furniture has become a target, but the company still does not recognize that its furniture is manufactured by mainland manufacturers.

High price: Ashtray sells thousands of dollars

According to Liu Yongsheng, director of the Guanyinqiao Industrial and Commercial Office, in fact, on the 10th of the CCTV "Weekly Quality Report" broadcast on the same day, at 3 pm, the relevant personnel of the Industrial and Commercial Administration, under the guidance of the relevant departments of the Municipal Administration for Industry and Commerce, have already traveled to Da Vinci. The sound bridge exhibition hall conducted a surprise inspection. Law enforcement officials found that the furniture sold by the store mainly included products such as Cabrera, Riva, and Hollywood, and the prices were "high on the top". At that time, the law enforcement officers asked the relevant personnel of the store for the relevant licenses and documents.

Yesterday morning, law enforcement officers from Guanyinqiao Industrial and Commercial Office accompanied the relevant media to the Da Vinci Furniture Exhibition Hall at Guanyin Bridge. When asking the relevant personnel of the exhibition hall for customs declarations and other documents of ordinary imported goods, the store staff said that since the company's imported products are all located in Shanghai, it is temporarily unable to issue relevant certificates for these products.

In addition to the high-priced furniture, the price of some small furnishings is also staggering. An ashtray also sells for thousands of dollars.

Investigation: no verification certificate

Guanyinqiao Industrial and Commercial Office officials said that although these so-called Italian furniture and small ornaments are expensive, brand agency contracts, power of attorneys, and even verification and certification are not available.

At the scene, law enforcement officials of the Industrial and Commercial Administration also found that these imported furniture did not have the Chinese logo that should be in accordance with the regulations. On the furniture label of the "Hollywood" brand, the label that should have been marked on the place of origin is only labeled "American brand, global procurement". Such an annotation can not help but ask: Global procurement? Is that possible to purchase from mainland China?

The industrial and commercial office has deducted the documents for the distribution of Da Vinci from the Shanghai headquarters since 2008, and also collected the sales records since its self-test operation.

Subsequently, the Guanyinqiao Industrial and Commercial Office seized 12 items in the Da Vinci shop, with a value of more than 5 million yuan.

Reason for seizure: suspected of false propaganda and forgery of origin. The brands seized involved in Cabrera, Hollywood, and Riva.

Relevant personnel of the industrial and commercial office said that the Shanghai Industrial and Commercial Bureau investigated and dealt with Da Vinci furniture because of "quality problems." The final punishment of Da Vinci in the way of the city will be decided according to further investigation.
Blooming volume eyelash are a one of a kind lash.
Special craft that make them become 2d 3d 4d 5d 6d Volume Lash Extensions.
The method to achieve blooming eyelash is to graft a cluster of 3D-5D fans.
If you want to creat a few lashes, you just need to grab a few lashes.
The root of the eyelashes will not separate, any flowering and novices can operate.


Volume Lashes,Pre Fanned Volume Lashes,Pre Fanned Lashes,Easy Fanning Volume Lashes

Luyi County Jiamei Cosmetic CO.,Ltd , https://www.eyelash.show